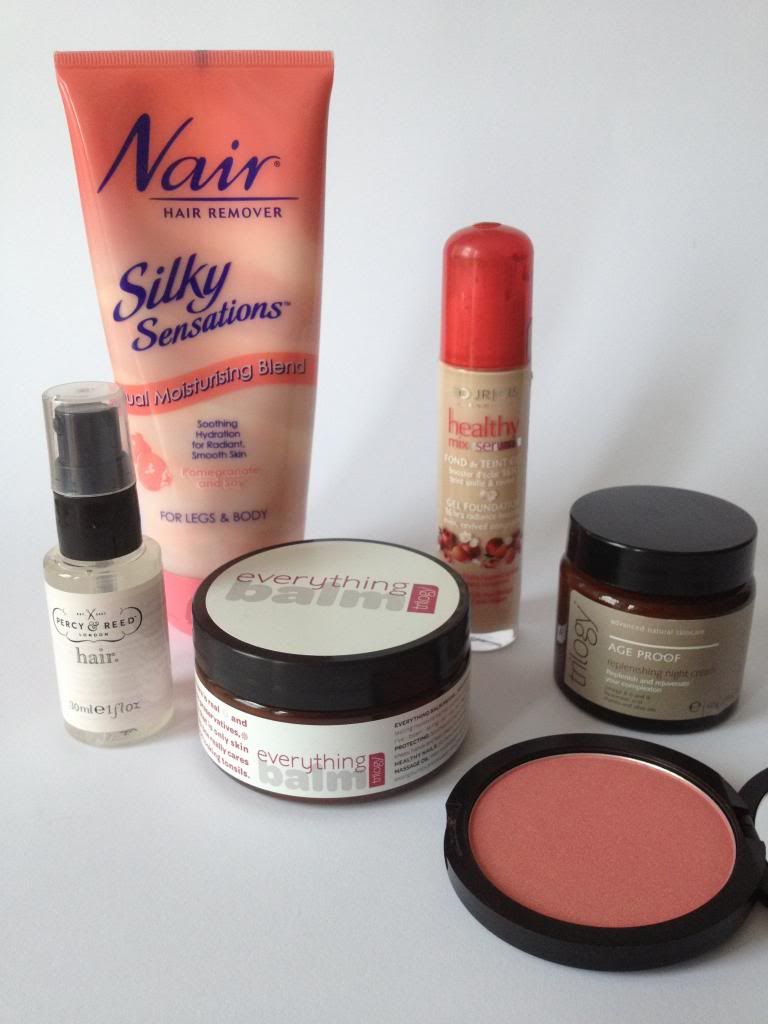 Nair Silky Sensations- Not very glamorous I know but I have been loving this product this month. It works brilliantly and does exactly what it says it does!
Bourjois Healthy Mix Serum - I dug this out of my collection this month as my usual work foundation had run out, and I am so glad I did. It gives a gorgeous natural look and is a great everyday foundation.
Percy & Reed No Oil Volumising Oil - As you all know, I'm sure, this came free with Glamour magazine and I am really glad I picked it up. I was worried it might leave my hair a little greasy but it doesn't at all. It gives me a really nice volume in my hair and a really nice shine.
Everything Balm - This has been my savior this month! I have had various viral infections and colds and I couldn't have gotten through this month with out this product! I have been applying it to my lips and nose mainly and keeps them so lovely and soft, despite the constant blowing my nose and not being able to breath out it. I have been layering this on right before I go to bed.
Trilogy Age Proof Nourishing Night Cream - This is a great cream, I can put it on at night with my skin in a terrible state and wake up in the morning with it all lovely and refreshed looking! I'm not a massive fan of the smell of it but it disappears after a while so not a problem.
Dainty Doll Blusher in You Are My Sunshine - I have seen a lot of people blogging about this blusher recently and I have been loving it! It is supposed to be a dupe for NARS Orgasm but I have never tried it so I can't say if it is or not. It is a gorgeous peachy pinky blush with gold through it and while be a firm favourite in my collection for a long time.