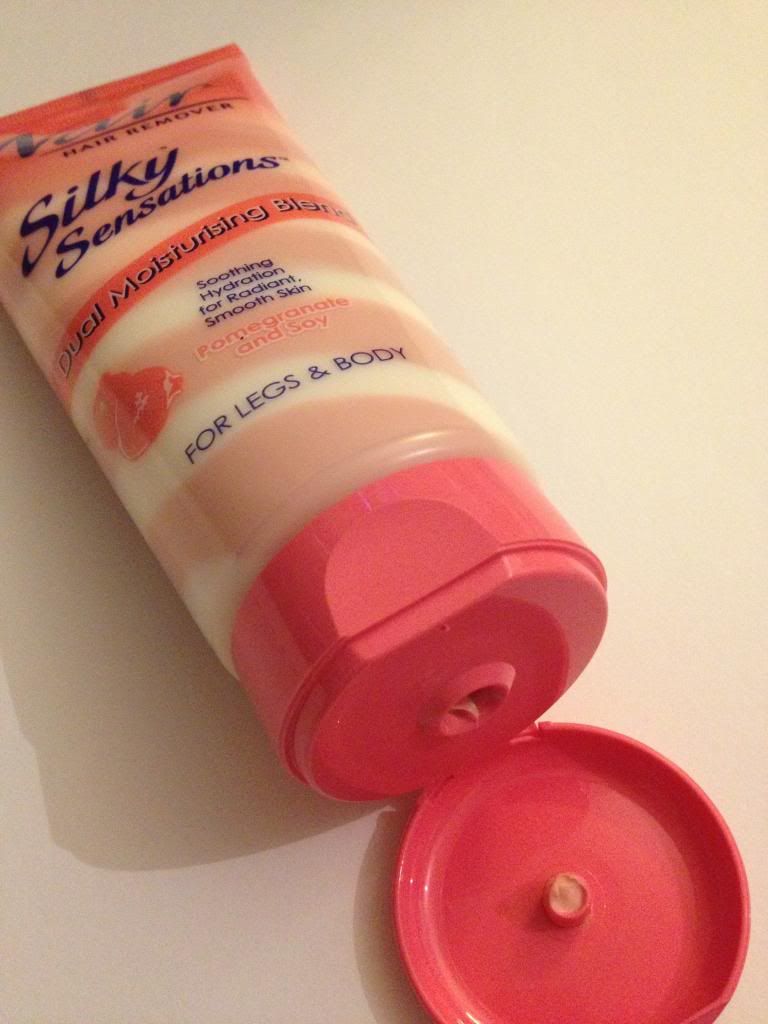 I know hair removal is not the most glamorous of subjects to talk about but I have found a product that is making the boring task a little more pleasant, Nair Silky Sensation Pomegranate and Soy.
I haven't used hair removal creams in a long time because any time I have used them in the past I always felt that they never really left my legs all that smooth, so when I tried Nair Silky Sensation I wasn't holding out much hope. I am pleased to say though that I was very pleasantly surprised!
It is incredibly easy to apply, you simply put the cream onto your legs, wait 3 minutes and then wipe of with a cloth, you couldn't get much simpler. I did leave the cream on for slightly longer than that but it does say not to leave it on longer than 10 minutes, which I didn't. After wiping the cream off and giving my legs a quick rinse in the shower I was amazed at how smooth and silky they felt. I was also really pleased with how long they stayed lovely and smooth. One thing I like about the product is way the cream looks in the bottle, its pale pink and cream swirls which blend together when you squeeze it out.
I was slightly disappointed in the smell of the product though. I was hoping that it would smell lovely and fruity seen as it has pomegranate and soy in it but unfortunately it had the same chemically, burnt hair smell that most hair removal creams. This didn't put me off though as the cream worked so well I could over look the few minutes of the horrible smell.
I received this cream as part of a beauty swap I did a while ago so I was unsure of the price of it and if it is still available to buy as I haven't seen it in any shops. But after having a look around on-line I have found it
here
on Amazon for £3.75 which I think is a great price for something that works so well. I will definitely be getting some and also trying out some of Nair's other hair removal products!